Short People Only - 15min to Times Square 247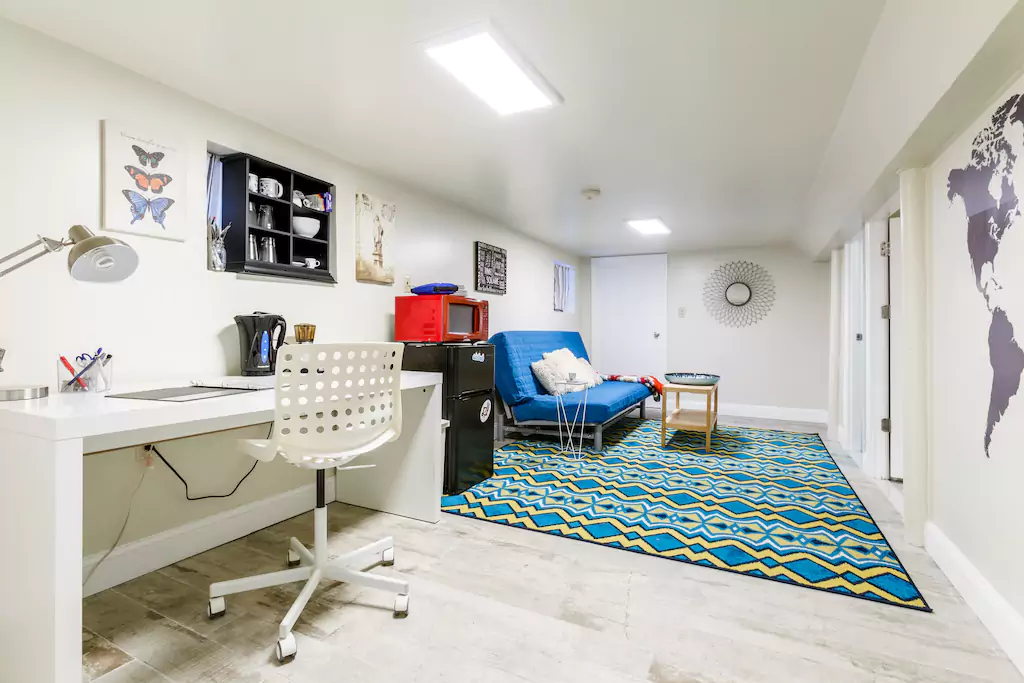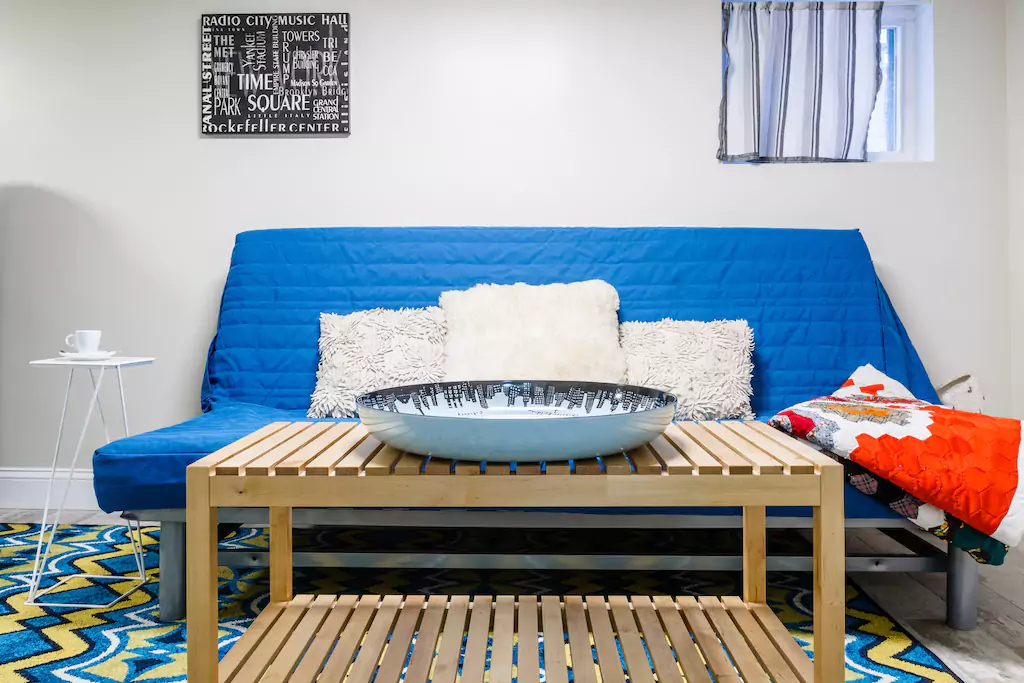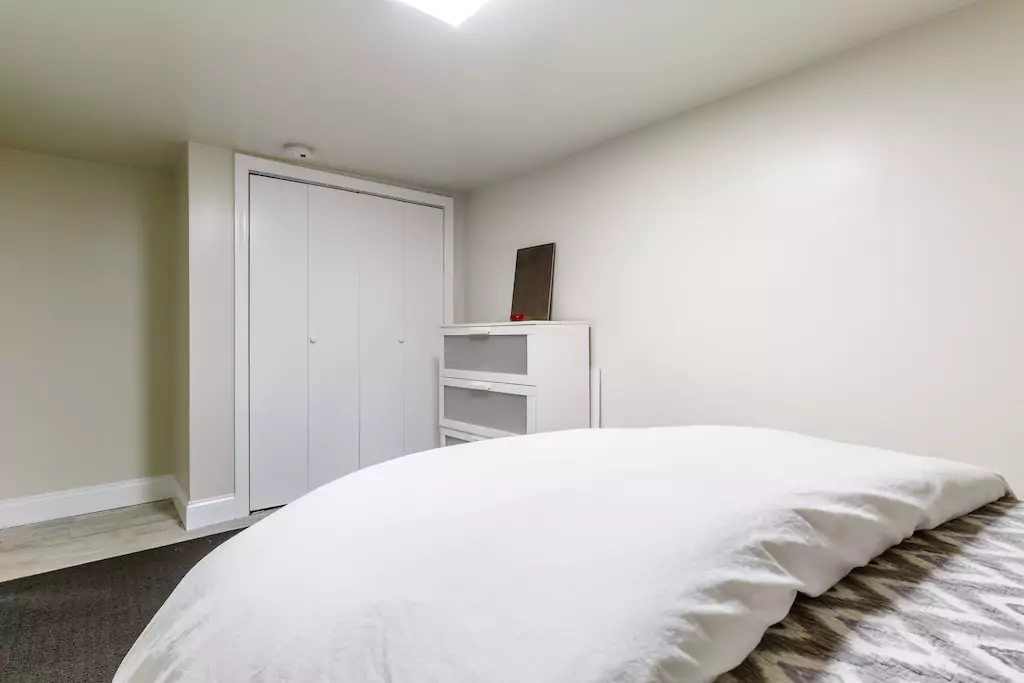 STARTING AT $90 per night
Not for tall people, low ceilings! Basement suite with a bedroom, private bathroom and sitting area with a workspace. Best for people under 6 feet tall as ceilings are low. 3 blocks from NY bound bus, the bus runs every 5 minutes (no joke) 24/7 and takes about 15 minutes. Near groceries and restaurants. NO KITCHEN, only a microwave, a fridge and coffee maker. Super easy access to Broadway theaters, midtown locations, Top of the Rock, Central Park. Park for a small car upon request.
The space
This is a small basement space with a full-size bathroom, bedroom and sitting area. The total size is approx 400sq ft. There are two other units in the building, so some potential for some footstep noise from the upstairs apartment. Great for people that don't mind sleeping with earplugs and don't need a kitchen. Most importantly, if you are tall, this might not be comfortable! Best for people under 6 feet unless you want a banged up head.
Guest access
Access to the shared laundry space. This is a self contained unit with it's own sitting area.
Access to parking at the back for one car, your car must be small enough to fit down the narrow (82") driveway. Larger cars can borrow a visitor permit for street parking.
**Subliminal message warning** my place is best from all other options..ha!
Interaction with guests
I live nearby and I'm only ever a phone call away.
Other things to note
FAQs
Q: How will I get the keys?
A: Easy! You'll get a private four digit door code for the side door. The door code will be active from 4pm on your check-in day until 11am on your check out day. You'll also find a physical key in the doorknob for your suite.
Q: Is it near the subway?
A: We are across the river from midtown, but there is no subway access (yet). Instead, we commute by the super awesome "chicken buses" or private jitney buses, that run every 5 minutes, all day and all night. As in 24/7 access. The cost is $3 per trip and I'll send you detailed info once you've booked.
Q: Is the neighborhood safe?
A: Union City is a very comfortable and easy place to be in. There are tons of families, professionals, apartments, private houses and the streets are well lit. You can walk home at any time of the night and not be bothered.
Q: Do I need to bring towels, a hair dryer, or linens?
A: Nope! I provide all these things. Same with basic toiletries such as soap, shampoo, hand soap
Q: Can my friend sleep on the sofa?
A: I'm very particular about the guest count. You may only have the number of guests stay that you booked for. What if there is an emergency and we need to evacuate the building? Don't you want me to know how many people are there? Please communicate with me if you have a last minute friend want to stay with you.
Q: What's my total booking price?
A: Hosts see a different screen then guests. You'll see the final price on the pre-approval, or you can check the final price yourself by entering your dates and the number of guests. The system will calculate the amount and show you the total (but it won't show me the final total as I don't see the service fee). figure should be present after you enter your dates.
Q: Does the house look the same as the photos?
A: Yes, the pictures were taken by the official Airbnb photographer. I may change the linens or move some cushions around, but it looks like the pictures.
One last thing: Because you read this entire listing to the end, you get bonus points for your ability to follow directions. To redeem them (for increased chance of booking!) just include the phrase "I read the FAQs!" at the top of your message.
ABOUT PARKING:
Being an urban area, parking is tight. We will provide a visitor pass so you have the same privilege as residents. Please note, that you must not forget to return this pass, otherwise we will need to charge you $35.00. For those who are not familiar with the parking system in the US, you must adhere to the parking rules - ie NO parking in fire zones / handicapped zones; sweep days; parking meters need to be adhered to and if you get a ticket, do not assume that you will not get another one if you don't move your car